Okay, everyone, we've all been there, scrolling through endless YouTube and TikTok videos, captivated by influencers' elaborate skincare routines with a seemingly infinite array of products that promise them the ultimate glow. They are mesmerizing to watch, but let's face it; it can also be overwhelming.
You might have felt the pressure to load up on numerous products, each one claiming to be the secret to radiant skin. Cleansers for this, exfoliators for that, specific products for different zones of your face, a hydrating mist just because… and the list goes on.
But guess what? It doesn't take a multitude of products to achieve soft, glowing skin. In fact, less can often be more when it comes to skincare. And that's where Skin minimalism comes in to save the day!
Skin minimalism (or Skinimalism) emphasizes the art of curating a skincare routine with only the essential products needed for a healthy, radiant complexion. No more cluttered vanities or guilt for not following a 30-step regimen. With Skinimalism, simplicity reigns supreme.
The focus shifts from quantity to quality, from endless choices to carefully selected ingredients that truly benefit your skin. It's about embracing a streamlined and effective skincare routine. Say goodbye to irritated and over-treated skin, and say hello to fresh, effective, and budget-friendly solutions.
Today, I am going to share my own nightly skincare routine, but first, here are some tips to create your own skinimal system!
The artistry of Skinimalism:
Study the products you are using. I recently published a highly informative blog that focuses on the importance of understanding cosmetic labels. It provides valuable insights into identifying the three key categories of ingredients found on cosmetic labels: functional, aesthetic, and claims ingredients. Functional ingredients are the vital components responsible for delivering the promised benefits of the product.
Pay attention to skin concerns rather than trends! It can sometimes be challenging to resist the latest products that consumers are sharing on social media. When you have a sound understanding of your skin type, you can gravitate towards products that will transform your skin rather than irritate it. Your skin needs a routine and familiarity; if you are constantly switching out your products to try the next best thing, your skin may not appreciate it!
An internal skincare routine is just as, if not, more important than an external routine. Eating the right foods and implementing important proteins and supplements in your diet are, of course, the starting point for healthy-looking skin.
Skin care routines should be 3-4 steps at most. Cleansing, toning, moisturizing, and applying sunscreen. These steps are considered essential for maintaining healthy skin. Extra moisturizing products and antioxidant serums are beneficial to implement in your evening routine.
It's a delightful self-care practice to indulge in treatments like face masks, chemical exfoliants, and spot treatments for common flare-ups. Give your skin some extra love with some of these treatments 2-3 times a week.
My skincare regime:
I used to have oily and acne-prone skin, and I made some skincare mistakes as a teenager. At one point, I would use a physical exfoliant cleanser every night, followed by an alcohol-based astringent and an acne-specific moisturizer, or sometimes I'd skip moisturizer altogether! My skin would become extremely dry, and then, surprisingly, it would become even oilier than before cleansing it. I would then make the mistake of using more astringent to combat the oiliness. Looking back, it was a learning experience. Fortunately, I've since simplified my skincare routine, relying on scientifically proven methods, and achieved much more effective results, all thanks to the Blemfree primary package!
I begin my skincare routine with Blemfree™'s Cleansing Wash Concentrate, which I've previously praised in my last blog for its excellent cleansing properties. I apply this versatile cleanser not only on my face but also on my back and chest to prevent body acne. On days when I feel my skin needs extra attention, I turn to Blemfree™ Cleansing Spheres. These all-natural jojoba beads complement the cleansing wash's deep cleaning abilities and provide gentle exfoliation without harming the outer layer of my skin or causing irritation.
After washing my face, I gently pat my skin dry with a towel and move on to the next step: Blemfree™ Toner & Balancer. This toner contains Chamomile, Rosemary, and Witch Hazel to restore my skin's pH balance after cleansing and help ward off acne-causing bacteria. Applying it with a cotton pad leaves my skin feeling fresh and soothed.
Now, my favorite part of the routine!
I conclude this three-step system with Blemfree™ All-Day Lotion. This lightweight, water-based antibacterial moisturizer is formulated with salicylic acid, an excellent active ingredient for acne-prone skin. What I love most about it is the delightful cooling sensation it imparts, leaving my skin feeling invigorated and refreshed. This moisturizer is highly effective at combating bacteria and ensures my skin remains fresh and clean all day, as the name suggests! I've been using the Blemfree™ Primary Package for approximately a year, and I'm delighted with the way it has improved the look and feel of my skin. Take a look!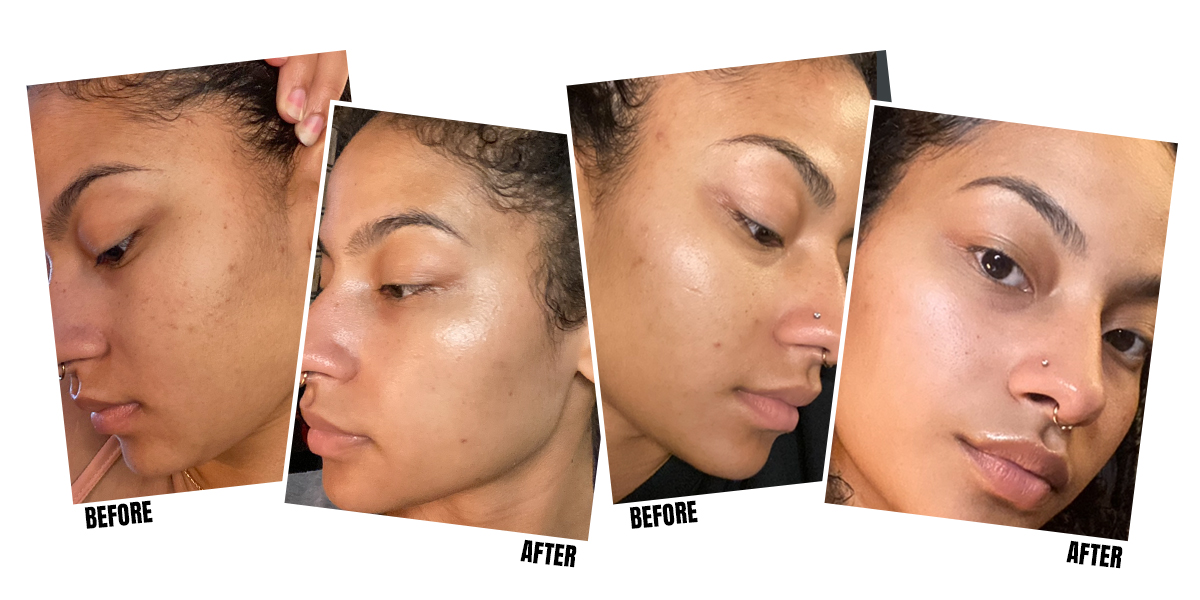 Lastly, for those mornings when you follow your skincare routine, don't forget to apply sunscreen! I apply it after completing my Blemfree™ Primary Package routine to ensure my skin is protected from the sun's harmful rays. Skinimalism is not just about having fewer products; it's about having the right products—ones that work harmoniously with your skin, enhancing its natural beauty without compromising on results. It's time to declutter your skincare shelf and embrace the beauty of simplicity.
Skinimalism is here to stay, and it's your ticket to the glowing, healthy skin you've always dreamed of.
Simone